AnnieLynne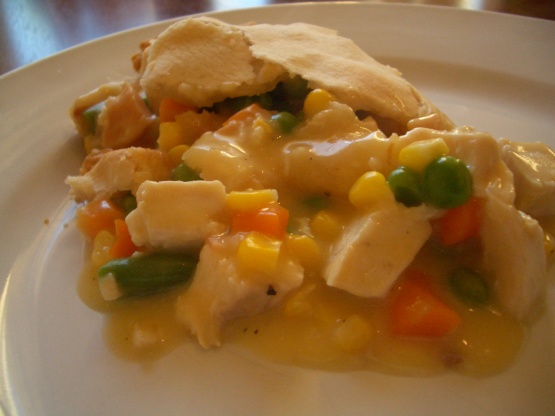 This is so easy you really won't believe it. I made it for my boyfriend and he thought I'd worked all day on it. HA HA.

Loved it! Anything that is that easy to make and tastes that good gets 5 stars from me! I made this to take to my Grandmother's for a pre-Valentine's Day dinner, so I felt the need to make it a little more festive! I used a small heart-shaped cookie cutter to cut 2 hearts in the top crust (one on each side). I placed the cut-up crust on top of the pie and then put the cut out hearts on the crust as extra decoration. I brushed the top with an egg white to brown the pie. Turned out beautifully! Thanks for the recipe! Will make again soon! UPDATE: This recipe made it into my Book #235514 cookbook! Thanks, again, Anchor Girl!
2

cups cooked chicken, cut into bite sized chunks

2

(10 1/2 ounce) cans cream of potato soup

1

(16 ounce) bag frozen mixed vegetables or 2 (15 ounce) cans Veg-All

2

pie crusts (top and bottom)
salt and pepper
Mix soup, chicken, vegetables and seasoning.
Put bottom pie crust in 9 inch baking dish.
Add the mixture.
Top with top pie crust and pinch.
Bake at 375° for 45-60 minutes until heated through.
(You will probably have leftover mixture -- I usually make an extra crust and make a mini-pot pie in a large ramekin.).