Easiest,cheapest,healthiest, Dog Treats Ever!
teresas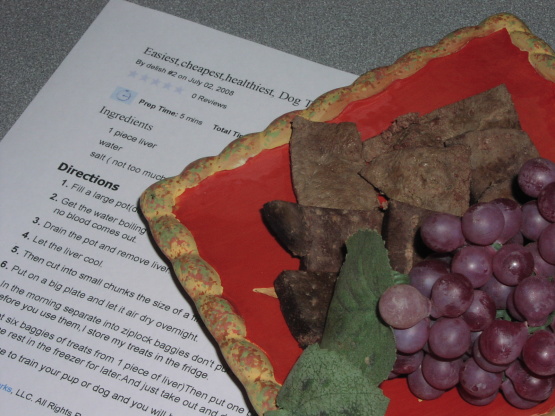 I got this recipe from the breeder we got our sweet lil' beagle pup "Fisher" from.She told me commercial dog treats are full of fillers and will give your dog bowel problems.When she told me how to make these I thought yuck,but she promised me that your dog will do anything for them and boy was she right! We got fisher at 8 weeks old and we have had him for only 2 weeks and he will sit,heel,lie down,shake a paw and rollover all with the help of these treats!!! Fisher looooves these he can't get enough and so will your dog. As a huge bonus they are cheap and healthy for your dog, full of iron and protein.

Our doggie Jake gave this a big paws up! It was a special treat for him...he lost his dear doggie friend Zeke last week and now he is lonely...so mommy made him something just for him...I wouldn't even let his daddy have any...giggle...these are so easy to prepare...not much to it...but obviously very tasty...thanks for posting it...made for Spring 2012 PAC
Fill a large pot(depending on the size of your liver)with water and salt the water.
Get the water boiling then put the liver into the pot,let it cook until when you pierce it with a fork and no blood comes out.
Drain the pot and remove liver.
Let the liver cool.
Then cut into small chunks the size of a fingernail.
Put on a big plate and let it air dry overnight.
In the morning separate into ziplock baggies don't put too many in each bag or they could go bad before you use them,I store my treats in the fridge.
(I got six baggies of treats from 1 piece of liver)Then put one bag in the fridge(for use right away) and the rest in the freezer for later.And just take out and defrost bags as you need them.
Use these to train your pup or dog and you will be amazed at the results!