Easiest and Best -Blueberry-Coconut Tarts
Dorel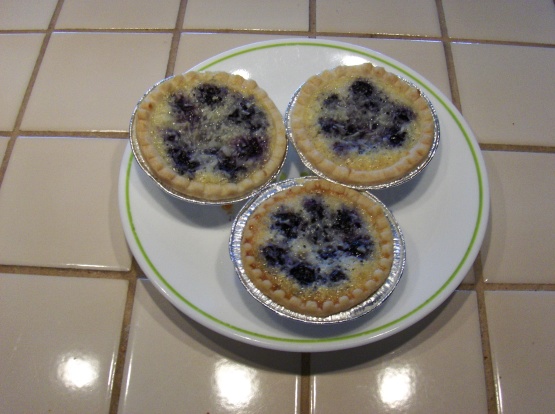 I made 1/2 the recipe first. But, I forgot and added 1 cup of coconut. Followed the recipe directions and prebaked shells for 10 min. Try to prick the shells on the bottom before baking. I forgot and nothing serious happened. Baked the tarts for 20 min. The filling was quite firm. We enjoyed them. I think I'll use double coconut all the time. I got 15 tarts. I had condensed milk left over so the next day I made more, 13 tarts this time. I didn't like the look of the mixture after the blueberries were mixed in yesterday, very blue looking. I even used frozen blueberries. You could add some flavoring if desired, taste the filling and see if you want to add anything more. Today I pre-baked the shells for 5 min. I put a few blueberries in the bottom of each shell, depending on size, I used 5-8 in each shell. These I baked for 15 minutes and they were a little runny in the middle. We liked them, there isn't any left. I think I'll try frozen raspberries next time. I'm posting the recipe the way it came to me.
Prick bottom crust of premade tart shells, bake for 10 minutes, cool on wire rack.
In a bowl combine condensed milk, eggs, coconut, then stir in blueberries.
Spoon mixture into shells and bake 20 minutes or until filling is set.
You may sprinkle coconut over tops before baking.