Earthbound Farm Corn Chowder
Parsley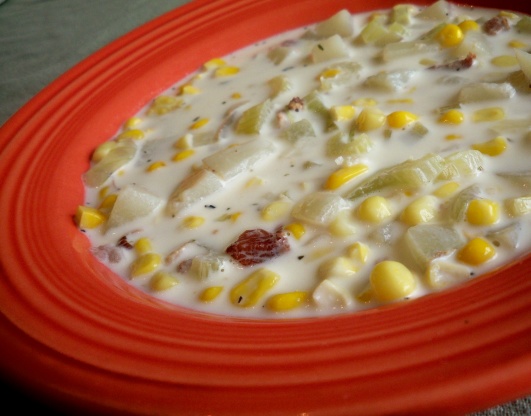 A sweet, summer corn chowder from the Earthbound Farm Cookbook.

We loved this soup! I used 2% evaporated milk in place of the half and half to cut down on some calories and fat. I also used part vegetable broth and part chicken broth to use up what I had in the pantry. Rather than removing 2 cups and pureeing it, I used a few buzzes of an immersion blender. The seasonings were perfect and required no adjustments, in our opinion. This recipe will be going into our favourites cookbook. Thank you for sharing it. Made for Spring 2011 PAC.
In a large saucepan, cook the bacon over medium heat until crisp (5-10 minutes) then drain on paper towels.
Add the onion and celery to the fat and cook until they are soft for 10 minutes.
Add stock, bay leaf, potatoes and thyme to the saucepan and boil over high heat. Reduce and let simmer for 20 minutes until potatoes are tender.
Cover and turn off heat. Leave on stove for 20 minutes then discard the bay leaf and thyme sprig. Add the bacon, corn and half-and half. (You can remove 2 cups of the chowder and puree it in a blender and then add that back to the chowder for a thicker consistency).
Season with salt and pepper.