Earth Scrub (a green "soft scrub") all-purpose cleaner
Lidya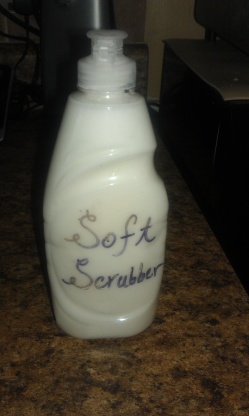 This is a great "soft scrub" for counters, sinks, tubs, shower stalls, etc. You can optionally add an essential oil to scent. (I use Dr. Bronner's Peppermint Castille soap, so I don't need any extra scent.) It's important to use liquid soap, not detergent, because detergent makes it much harder to rinse. Castille soap is best; it's available at health food stores. It's great to use this and know you're saving money while being kind to your lungs and the planet at the same time! I got this recipe from Karen Logan's book, Clean House, Clean Planet (a great book!). You can add a few drops of tea tree oil to make it disinfectant and use it for a toilet bowl cleaner.

This is definitely a great recipe and one I've already used and enjoyed. However, I add the vinegar while I'm cleaning, rather than adding it to the original mix. The vinegar and baking soda neutralize each other when mixed, so the combination doesn't add any extra cleaning power. I'd suggest adding an extra tablespoon of water to the original mix to get the desired consistency, and then adding a little vinegar if needed when cleaning.
Stir liquid soap into baking soda.
Add the water, and stir to be as smooth as possible.
Add the vinegar and stir again.
Pour into a squeeze bottle.
(A clean, empty ketchup or syrup bottle works well.) Shake well before using, and keep tightly closed between uses.