Earth Friendly All Purpose Cleaner
J-Lynn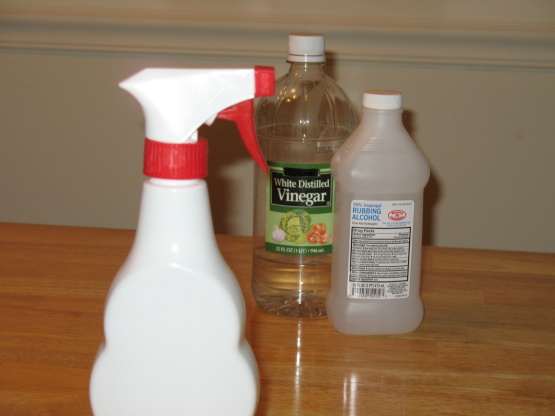 WOW! No streaks, no smears, no buffing. This will clean ceramic tile counter tops, windows and their vinyl casings, SS appliances, sealed wood AND it removes hairspray from mirrors. So far that's all I've tried it on, as I came up with this recipe just this morning. I've been a cleaning fool today, experimenting on everything. I love it...Let me know what you think.

I am a bit leery of using "green" products to actually get in there and get stuff clean but WOW! I am sold on this one! My DH and I have 2 kids with one on the way so we wanted to get away from cleaning products that have a ton of chemicals in them so after I stumbled across the non-food area of Zaar, we decided to try this because of the sanitizing effect of the rubbing alcohol. I LOVE IT! I use it on everything - windows, mirrors, the ENTIRE bathroom, inside and outside of the fridge...I could go on and on! I do add a tsp of dish soap and a few drops of orange oil to kind of kill that vinegar smell. Other than that it's great! Thank you so much for posting! This has saved us a fortune, has pointed us a step in the right direction toward removing all chemicals and has even given us more space in our home (since I've cleared out all other cleaners from under the sink in both the kitchen and bathroom).
Combine ingredients.
Place in a spray bottle.
Spray surface and wipe.
Dry with a clean cloth.
UPDATE: I've found you need to shake this every time you use it.
WARNING: Do not use on aluminum. It's come to my attention that this will damage aluminum.