pammyowl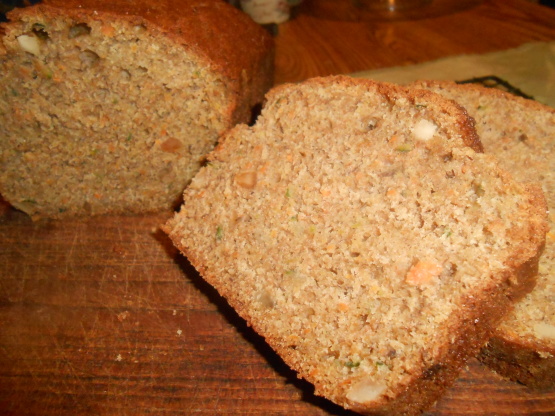 A wonderful full-flavored bread - great with honey- or cinnamon-butter!

This was very good! I cut the recipe in half to make only one loaf and used two eggs, rather than one and a half! I also changed the sugar. I used 1/2 cup brown sugar and 1/4 cup white,so I cut the amount down by 1/4. For the nuts I used Macadamia. Thanks for sharing, loof!
Combine the sugar, oil, eggs, and vanilla in a large bowl.
Sift the whole wheat flour, all-purpose flour, baking soda, salt, pumpkin pie spice, baking powder, and cinnamon in a medium bowl and mix well.
Add flour mixture to oil mixture, stirring until blended. Stir in the zucchini, carrots, banana, and nuts.
Pour batter into 2 greased and floured 5x9 loaf pans. Bake at 375 degrees for 55-60 minutes. Invert onto a wire rack to cool.