Earl's Kung Pao (Protein of Your Choice)
Ridmintz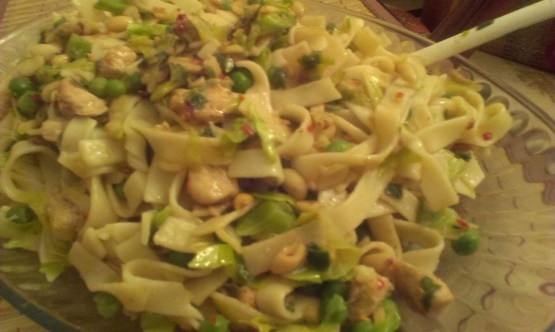 Earl's Restaurant in Canada makes the most amazing Kung Pao - it's on their menu as chicken, but I had it made vegetarian, and wow, is it fantastic! Make it however you like... at Earl's, you order by the number of peppers... 1 for mild, 6 for scorching... I like 6! *Note* The peppers are not eaten, they're cooked in the sauce, and then removed. Passed along to my by a friend who I ate there with... she mentions that if you cannot find the peppers, you can sub them with 2 tsp chili paste and 1 1/2 tsp chili flakes (to taste.)

This type of dish is among my favourite things to eat. There are a few steps, but they're all easy. I used some brown rice spaghetti and a mix of cabbage and carrots for veg. I've never put cornstarch in a tofu marinade before, good idea. The tofu was really tasty and just a little crispy on the outside.
8

ounces tofu or 8 ounces chicken breasts, cubed into 1-inch cubes

Marinade

2

teaspoons soy sauce

2

teaspoons rice wine vinegar or 2 teaspoons vinegar

1

teaspoon sesame oil
1 1⁄2 teaspoons cornstarch

Sauce

2

tablespoons soy sauce

1

tablespoon rice wine vinegar or 1 teaspoon vinegar

1

teaspoon sugar

Other

4

cups vegetables, chopped (broccoli, snow peas, carrots, peppers, etc)

375

g pasta (whole wheat or white) or 375 g noodles (dry)

2 -8

small dried red chili peppers

2

garlic cloves, minced

1

bunch green onion, chopped

1

tablespoon fresh ginger, grated

1

teaspoon szechuan peppercorn (optional)

4

tablespoons oil, for stir frying
1⁄2 cup salted peanuts or 1⁄2 cup cashews

3

drops sesame oil
Mix together the marinade, adding the cornstarch last, and whisking well until there are no lumps.
Cut the tofu or chicken into 1-inch cubes. Combine with the marinade ingredients. Marinate ½ - 1 hour.
While the tofu or chicken is marinating, prepare the sauce and vegetables. Set aside.
Heat wok over medium-high to high heat. Add 2 tbsp oil. When oil is hot, add tofu or chicken and marinade. Stir-fry until chicken is cooked or tofu is browned. Remove from the wok and set aside. Stir fry vegetables until tender crisp, and set aside.
Cook whole wheat pasta until al dente. Drain.
Add 2 tbsp oil to wok. When hot, add the garlic and ginger and stir-fry until aromatic (about 30 seconds). Add the sauce, chili paste and hot pepper flakes. Bring to a boil. Add cooked tofu or chicken, vegetables, green onions and nuts. Stir until hot. Remove from heat and add few drops of sesame oil.
Add sauce, vegetables, and chicken to pasta and toss. Garnish with extra nuts.
Enjoy!