CarolAT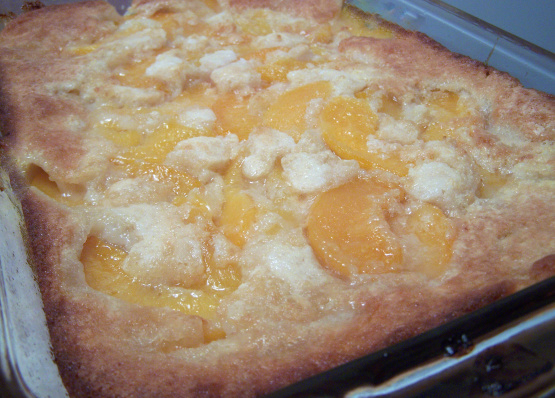 This is so simple to make, but so delicious. I almost feel guilty when people ask me for the recipe, because it is so easy to make.

Extremely easy and tasty. This ia a very good cobbler to make for just you or to serve to friends. It had a bit too much sugar on the top for me so next time when I make this I will sprinkle just a little sugar on top. Thanks for posting this recipe. Adopted for PAC April 2008.
Preheat the oven to 350 degrees. Melt the 1 1/2 sticks of margarine in a 9 x 13 pan.
Meanwhile, combine the flour, (1 1/2 cups) sugar, baking powder and salt. Add the milk to the dry ingredients and stir until not lumpy. Pour the batter over the melted margarine. Drain the can of peaches (save the juice) and then place the peaches randomly over the batter. Then pour the peach juice over all. Then sprinkle the 1 cup sugar evenly on top. Bake , uncovered, at 350 degrees for one hour, or until bubbly and beginning to brown.