Bergy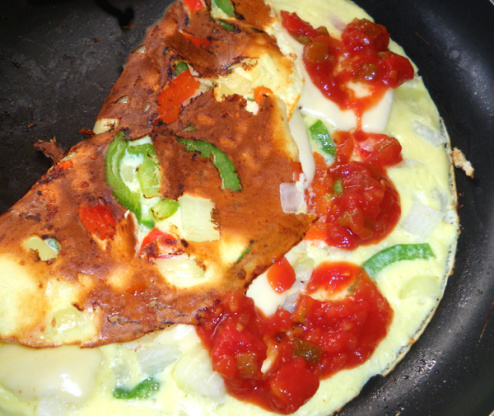 Thank You for your recipe. Mark wanted a omelet this morning and I hit zaar. Oh Yes you gave me a very good one. I added crumbled Bacon and chopped up a slice of Ham. I did half recipe for him. He had a 3 egg omelet. We are going to get him fat!!! Thank You so very much.
Preheat oven to 350 degrees F.
Saute veggies in oil about 3 minutes.
Mix eggs, cheese, cream, butter, salt and pepper; pour over vegetables.
Cook, stirring gently, until eggs are set on bottom, about 3 minutes.
Sprinkle with cheese.
Bake 5 to 7 minutes or until cheese is melted and eggs are set.
Cover with salsa and serve.