Dynamite Orange-Almond Salad
loof751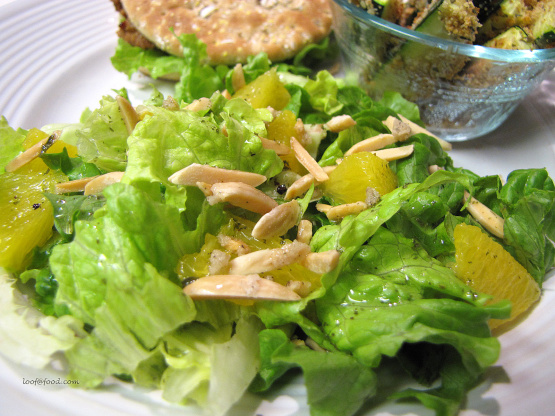 Found this in the book At Home Cafe. I have modified it a little. It is great if you add crumbled blue cheese, mushrooms, shredded chicken and dried cranberries on top also. You can glaze the almonds and dressing ahead to save time.

This paired well with a simple dinner of fried eggs and leftover saffron rice. I substituted cara cara oranges for canned mandarins. I tested with avocado oil; mixed greens from the farmer's market. Very good and simple to make! Prepared for Recipe Swap #86 in Australian/NZ forum.
For dressing, combine first seven ingredients (from salt through parsley). Whisk until well blended.
For glazed almonds, combine almonds and sugar in a small skillet. Heat on low and stir constantly until sugar is dissolved and almonds are well coated. Sugar can caramelize quickly and burn--watch closely.
Pour onto waxed paper to cool.
Once cooled, break into small pieces.
To serve the salad, combine greens, onions and mandarin oranges into a large salad bowl. Pour dressing over the salad and toss to combine.
Sprinkle glazed almonds on top and serve.