Dutch Puffed Apple Pancake
katew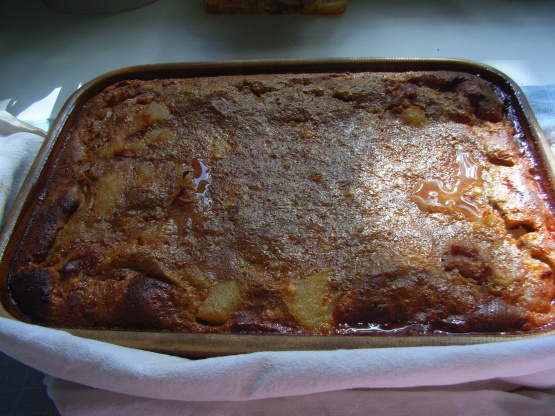 I've not made this but it sounds to good not to post.
As a child my dear belated father would take me to breakfast after church...he would order the big apple and I the baby apple......making this recipe reminded me of a wonderful moment in time...I did alter the recipe a tad by using baking soda to help hold the rise. I do suggest using a glass pie plate to create a beautiful look I remember seeing at the restaurant.
Preheat oven to 425 degrees.
Melt butter in a 9 inch glass pie pan in oven.
Arrange apple slices, then walnuts over butter.
Bake until apples begin to soften and walnuts are lightly toasted, about 5 minutes.
While the apple mixture is in the oven, using an electric mixer, beat eggs, milk, flour, sugar, vanilla, cinnamon and salt in a large bowl to blend.
Stir in cranberries.
Remove pie pan from oven.
Lightly spray inside edges of dish with nonstick spray.
Pour batter into dish.
Sprinkle brown sugar over batter.
Bake until center is set and edges are puffed and slightly browned, about 25 minutes.
Serve with warm maple syrup.