twissis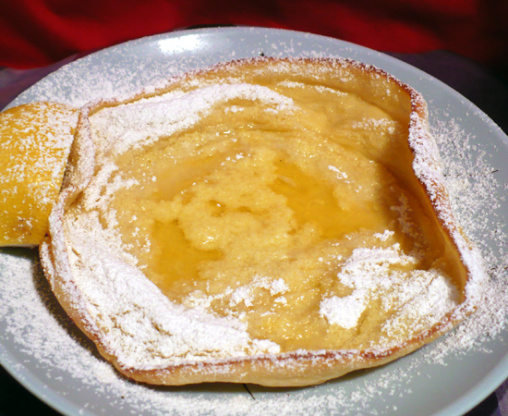 This is from a Pennsylvania Dutch Cookbook. I used to make this as a little girl in my mom's iron skillet. I made it with a very good friend of mine and she still talks about these today. They were a lot of fun to make since they really bubbled up in the oven and of course it helped that we got to put butter and sugar all over them!

*Ahhh the memories* ! I went all out w/this & served it w/butter, powd sugar & lemon in generous amts as thats the way I like it & remember it. It was a bit of an experiment as I did not have an oven-proof skillet & used a pyrex baking dish. I microwave-melted the butter, swirled it in the dish & reheated it as hot as I thot I should. Then I poured the batter in, put it in the oven & allowed a cpl extra min baking time for the lack of stovetop cooking time. It was great, easy & fast! Who asks for more than that? Thx for sharing this recipe w/us. *Yum* ! ~ *Note Re Yield* I halved this & it was a stretch to serve 2 of us, so 4 servings would be the max IMO. :-)
Preheat oven to 425 degrees.
Set a 10" heavy skillet with heat resistant handle over moderately low heat.
Melt butter in skillet; tilt skillet to coat sides and bottom.
Sift together flour, sugar and salt.
Beat eggs and milk together.
Stirring constantly, blend the egg mixture into flour mixture.
Quickly pour batter into hot skillet.
cook 2-3 minutes over medium heat.
Place skillet in oven and bake about 10 minutes or until the pancake is a light golden brown and top spings back when lightly touched at center.
Remove to warm platter. Sift confectioner's sugar over top (I buttered heavily first, then sifted confectioner's sugar over it. The butter melted and created a sort of sugary paste with the confectioner's sugar - yum!).
Serve at once with lemon wedges (I never did!).