PanNan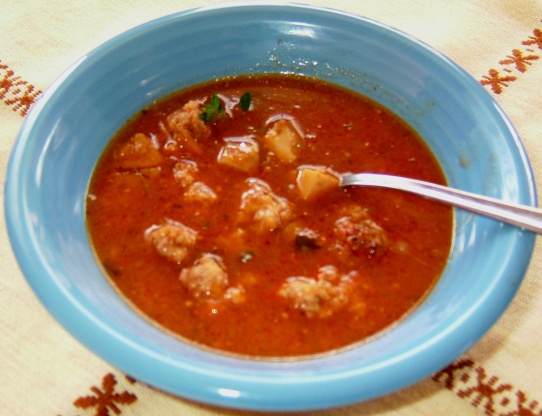 This is another favorite traditional Dutch soup recipe. We often had this on a cold winter night with a hearty bread. We had a lot of soups growing up, and Mom would make basic small meat balls, and keep them in the freezer to toss into the various soup recipes.

An excellent soup no doubt with the presentation of a hearty stew and the taste of a finer soup. I made one change I substituted the meatballs with thin strips of tenderloin. Sometime the meatballs have a high fat content and I did not want a thin layer of grease topping my soup. However with bread and potatoes its very comforting. Cheers.
Saute the first five ingredients with bacon in butter until tender.
Add the flour and stir constantly for about 4- 5 minutes.
Add 3 cups of the broth, stirring to avoid any lumps.
Add the rest of the broth and push through a sieve, or use immersion blender to make a thick broth.
Add the seasonings, the wine, meatballs and mushrooms.
Simmer for 20 minutes, or until the mushrooms are barely cooked and the meatballs are heated through.