Dutch Baby Poofed Pancake
Bev I Am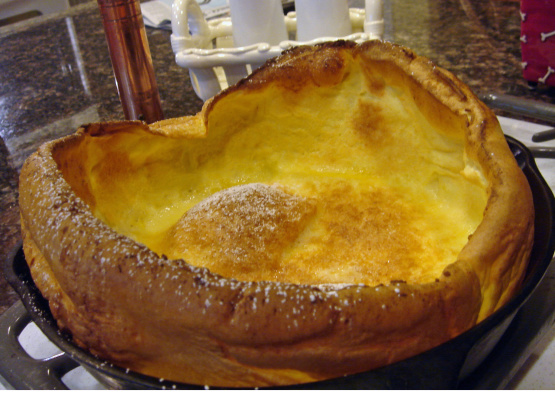 this is like a dessert, really -- very unusual, incredibly delicious and wickedly easy - taking just 5-10 minutes to blend and bake! for a sweet tooth, but very few calories... excellent for people wanting to eat smart AND scrumptious at the same time...

This recipe is very similar to the recipe we used as kids. It is very delicious. We always ate it with powdered sugar and syrup, or if we had a serious sweet tooth we sprinkled with cinnamon n sugar and also added syrup. Very good recipe all in all, very simple as well.
Preheat oven to 400 and put a cast iron skillet inside to get hot.
Whisk or beat eggs.
Add milk and oil and whisk again.
Add flour and salt and whisk very well.
Remove skillet from oven, melt butter and swirl to coat entire surface [wiping sides with a paper towel dipped in the butter].
Pour in batter all at once.
Return to oven and bake for 18-20 minutes - it's better not to be too golden brown on the underside - and may take a few (delicious) tries to figure what degree of doneness YOU like best with your oven and pan.
Remove and serve at once garnished with slim lemon wedges and sprinkled with confectioner's sugar.
I would think you could use a souffle or casserole dish but haven't tried it myself.