Ashley Cuoco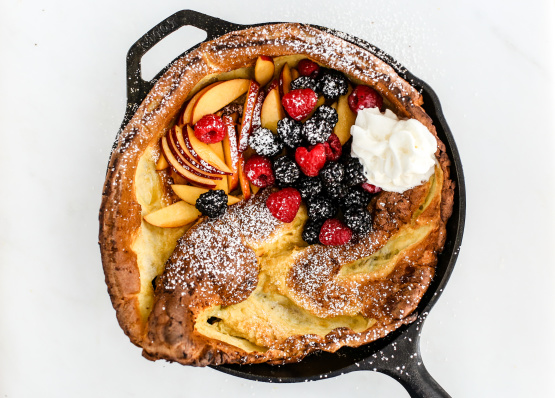 I've had these a lot at B&B's, probably because they're delicious and dependable if the right technique is used. This dish is puffy around the outside and flat in the center offering the perfect nest for sliced fresh fruit. It's airy, light and makes a beautiful presentation. The batter can be made up to a day ahead and refrigerated.

Used my Pyrex pie plate and glad I did, because the tin pie plate I had in the cupboard would have been too small. Per other reviews I decided to do 425 degrees the first 15 minutes then 350 degrees the last 8-10 minutes. It worked out perfectly. I also tweaked the batter per other reviews by adding a dash of salt, 1/4 teaspoon cinnamon, and cutting down the butter to about 2 teaspoons (I eyed all of it). Made powdered sugar by simply putting some white cane sugar and tapioca starch into a mini food preocessor for about 3 minutes. Not exactly what I had in mind but this is a keeper! Thanks
Fifteen minutes before baking preheat the oven to 450°; have a pie plate or oven-proof skillet ready.
Whisk together the milk, flour, eggs, sugar and vanilla; put the butter in the pie plate or skillet and place the pan in the oven just until the butter is melted; with a brush coat the rim and entire inside of the pan.
Slowly pour batter into hot pan; bake for 20 minutes; reduce heat to 350° and bake another 8-10 minutes, until pancake is well-browned; remove from oven and sieve confectioners' sugar over the top; serve immediately with fruit spooned into the center of the pancake.