Ashley Cuoco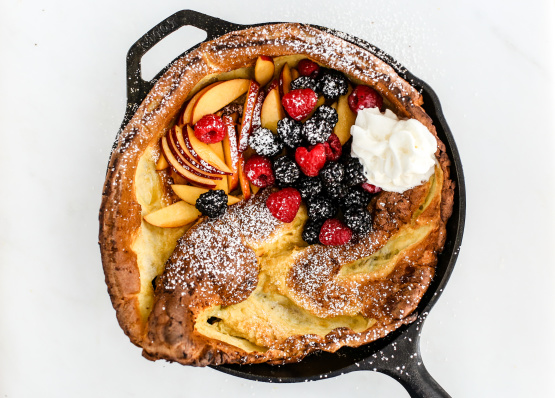 I've had these a lot at B&B's, probably because they're delicious and dependable if the right technique is used. This dish is puffy around the outside and flat in the center offering the perfect nest for sliced fresh fruit. It's airy, light and makes a beautiful presentation. The batter can be made up to a day ahead and refrigerated.
Dutch Babies are the best and we're going on three generations now. My mom made them for us, I made them for my kids and now they're calling me to get the recipe every so often for their Sunday brunch breakfasts. I've simplified the recipe: for every one egg, add 1/4 milk and 1/4 cup flour...that's it! The added eggs make it more fluffy! For an average size pie pan use 3 eggs, 3/4 C milk, 3/4 C flour. Best way to do it is in a blender. Add the eggs first and whip them up for about 30 seconds to fluffy. Then slowly add the milk and eggs while blending on low speed. A hand blender works really well too. Use 425 degrees. Melt the butter (don't skimp, use plenty like 2T) to just where is starts to sizzle, then dump the batter quickly right into the center. The pour will push the butter right up the edges of the pan and make the edges of your dutch baby looks so nice. Just cook for 20 minutes at 425, take it out, dress it up and eat it immediately. It will "fall" when you take it out but like the article says, that makes the perfect spot for your favorite topping. I like it with good maple syrup, but my daughters take fresh or frozen berries and put them in a pan and heat them slowly while the DB is cooking. We don't add any water or sugar, the berries create their own juice. Then just pour the warmed berries and sauce over the DB and then add plenty of fresh whipped cream! OMG it is amazing and not bad for you since it is mostly eggs!
Fifteen minutes before baking preheat the oven to 450°; have a pie plate or oven-proof skillet ready.
Whisk together the milk, flour, eggs, sugar and vanilla; put the butter in the pie plate or skillet and place the pan in the oven just until the butter is melted; with a brush coat the rim and entire inside of the pan.
Slowly pour batter into hot pan; bake for 20 minutes; reduce heat to 350° and bake another 8-10 minutes, until pancake is well-browned; remove from oven and sieve confectioners' sugar over the top; serve immediately with fruit spooned into the center of the pancake.