Dutch Babies Lightened Up
diner524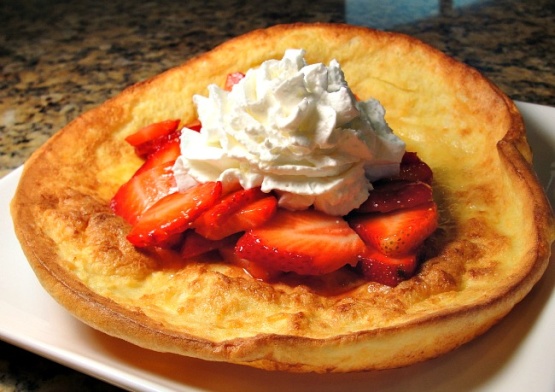 I grew up eating "dutch babies" as we called them. Like a German Pancake. I lightened up this recipie using half the margerine, and trading out some of the eggs for egg whites.
Fantastic Dutch Babies!!! You wouldn't know that they were lightened up, so good!! I made this for 1/4 of the recipe and then topped it with fresh sliced strawberries and whipped cream, yum!! Thanks for sharing the recipe. Made for 2013 Spring PAC event.
melt margerine in a 9x13 baking pan while preheating oven to 400 degrees. whisk eggs and egg whites, mix in flour, milk and salt. Pour batter in pan with melted butter. Bake for 20 minutes.