Julesong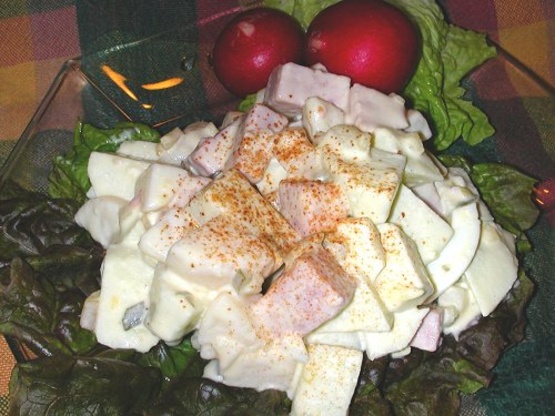 This is one of the Zaar recipes that I adopted. Thanks a bunch to Julesong for her suggestions in helping me edit the recipe! Note: to make this salad low carb, substitute jicama for the apples and turnips for the potatoes.

I was a little nervous about the combination here but was looking for a departure from my usual fare. My homemade dressing had a bit too much celery seed but I loved the salad itself. It was fun having a mix of sweet and savory chunks. My only change was to add 1/2 cup of dressing and to mix the lettuce with an alfalfa-onion sprount blend. The sprouts paired really nicely with the salad. Thanks Dreamgoddess.
Combine ingredients and serve on lettuce leaves.
Garnish with paprika.