Dutch Apple and Pumpkin Crisp
karen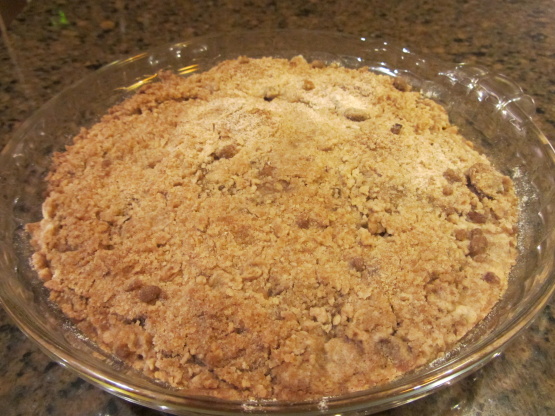 This recipe was found in the 2009 Betty Crocker cookbooklet, Fall Baking. Preparation time does not include the 20 minutes needed for the crisp to cool slightly.

Top Review by karen
I really wish I could give this a better review. The concept of this recipe sounded so good to me. I just didn't like it, even though I like all of the ingredients individually. I hoped that I would like it better the day after I made it as the flavors melded, but I found it even sweeter and liked it less. I also found that there was twice as much topping as was needed, and it was too much flour, not enough of everything else.
Preheat oven to 350 degrees F.
Spread chopped aples over the bottom a 9-inch glass pie plate, then microwave uncovered on high 4 to 6 minutes or until apples are crisp-tender.
Meanwhile, in a small bowl, mix together the 3/4 cup of flour, brown sugar, butter & 1/4 teaspoon of pumpkin pie spice until crumbly, then set that mixture aside.
In a medium bowl & using a whisk, beat together the remaining ingredients until smooth, then pour this mixture over the apples.
Sprinkle the filled pie plate with the flour mixture, then bake 30 to 35 minutes or until golden brown & set.
Cool 20 minutes on a wire rack, then serve ~ goes nicely with either whipped cream or vanilla ice cream!