PaulaG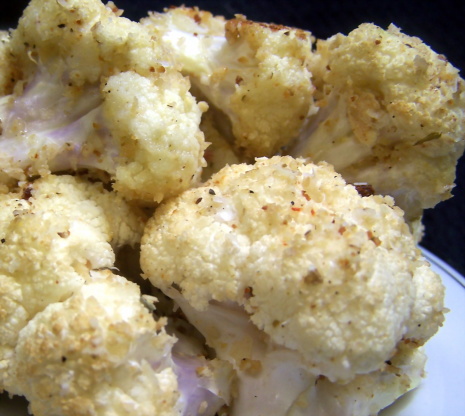 A great way to dress up cauliflower and for a change of pace how about "Dusty Musrooms". Simply replace the cauliflower with 4 cups of fresh mushrooms, cut in halves or quarters and adjust cooking time if necessary. This recipe is adapted from one of my favorite healthier cookbooks==Oat Cuisine.

Very delicious side dish. Made in next to no time, and good for you, too. I served this with grilled steaks and caramelized onions. A repeat for sure.
Preheat oven to 400 degrees and spray a 10 x 15 inch pan with cooking spray.
Place the cauliflower in a large bowl, drizzle with oil and toss to coat.
Combine the remaining ingredients and sprinkle over cauliflower, tossing to coat.
Spread the cauliflower in prepared pan and sprinkle with any remaining crumbs.
Bake 18 to 20 minutes, until lightly browned.