Dusted Vanilla Ricotta Fritters
twissis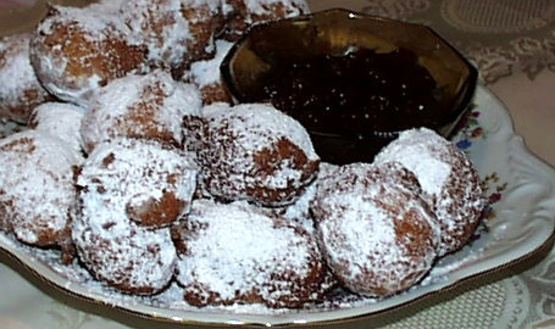 Easy and so good! Your loved ones will be amazed at your creativity. Recipe adapted from Gale Gand, executive pastry chef and a partner at Tru in Chicago.

I have also long been a fan of fritters, but had never made any till today. These little beauties (as Ev called them) are just so easy to fix & dynomite yummy to eat! It is a good thing I made a full recipe & had a bunch of them because DH & I were eating them plain while I was trying to dust them & take the photo. Then we ate more after that & dipped them in raspberry preserves. I can hardly wait to serve them to guests & I am sure DH will want them often, so thx for sharing this great recipe!
In a large saucepan or deep fryer, heat 2" of vegetable oil to 375°.
Cover a wire rack with paper towels and place on a baking sheet near your heated oil.
While the oil is heating, in a large bowl, beat eggs, granulated sugar and vanilla with a wooden spoon. Add ricotta and blend until smooth. Add flour and baking powder and combine until JUST blended.
Using a very small ice cream scoop, melon baller or 2 teaspoons, slide 8 walnut-size balls of fritter batter into the hot oil.
Fry until deep golden and cooked through, 3 to 4 minutes.
Transfer fritters to rack with a slotted spoon to drain.
Continue frying in batches of 8.
Arrange on a platter and dust well with confectioners' sugar and/or cinnamon sugar and serve with your favorite preserve.