Duonyte's No-Knead Sourdough Bread
Katzen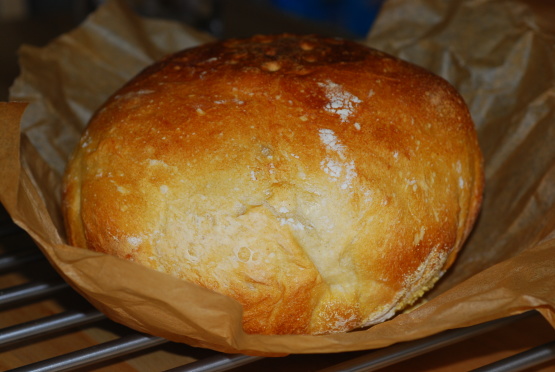 I baked many loaves until I finally came up with a successful sourdough version of the recent no-knead phenomenon. This is a great, beautiful loaf of bread.

Top Review by Katzen
This was fun to make, that's for sure... I have to admit that my first attempt wasn't very attractive, but boy did it taste great! The issue I had was transferring it from the bowl to the baking pot - it was sticky, and since I let it rise in the mixing bowl, it didn't want to move! The second time I made it, I floured it well and placed it in another bowl. This time it was easy to dump into the pot, although I think I'll try GW's oat bran, or maybe cornmeal instead of flour to keep it from sticking. **Update - I made it for the third time, only this time I used parchment and did the final rising with the dough on parchment, in a deep pan of similar width to my cast iron pot, sprayed it with PAM, and covered it with saran. When it was time to transfer it to the hot pot in the oven, the parchment worked like a sling and made transferring it SO EASY because you just drop the whole thing, parchment and all, into the pot. It came out gorgeous and sure tastes wonderful! I like that this is a small loaf, which is perfect for us! I actually brought this along for Father's Day, and it was the talk of the lunch! After having made it more than six times now, the only downside is how many people ask you to make it for them because it is THAT GOOD! Thanks, Duonyte! Made for 1-2-3 Hits Tag.
Measure the flour and salt into a bowl.
Measure the sourdough into a cup, and add enough room temperature water to equal 1 1/2 cups. Stir the starter to dissolve it in the water.
Pour the starter-water mixture onto the flour. Stir together until all of the flour is incorporated. (I just mix with my hands). It's important to make sure all of the flour is incorporated.
Cover with plastic wrap and a towel, and leave overnight in a room at about 70 deg. F. for 12 to 18 hours.
At this point, the dough should be quite puffy. Lightly oil your hands. Without removing the dough from the bowl, fold the edges of the dough into the center. Once you've gone all around, pick up the dough, pull it to a rectangular shape and roughly fold one end over the other (like folding paper for an envelope). Do it again, pulling from the opposite edge. Now plop it back down into the bowl. Cover and let rise and additional two hours.
About 30 minutes before the two hours is up, place your pot with its lid (3 to 4 qt size) in the oven and heat your oven as hot as it can get. (Grease your pan if you feel it might stick).
When your dough is doubled, pull the pot from the oven and very carefully remove the lid. Tip the dough right into the pot (a silicone spatula helps tremendously), cover, and return to the oven.
Reduce temperature to 450 deg. F. and bake for 30 minute Remove the lid and bake an additional 15-30 minutes.
Remove loaf from pot and allow to cool before slicing.
Note1: A plastic bowl or basin really works well. Get one that has a smallish flat area at the bottom - this will help shape your loaf.
Note2: Thanks, Zurie, for reminding me of the mix in the bowl technique - my late aunt first taught this to me, but I'd forgotten about it. It really works and you end up with much less cleanup.
Note3: Starters vary tremendously in how liquid they are. You may need to add a little water to get the right consistency. Remember, this dough is not going to look like a traditional dough in the first phase. It should be soft but not gloppy or liquid.
Note4: Substitute 6 ozs. of wheat flour for 6 ozs. of white flour for a heartier loaf.
Note5: It's sometimes difficult to visualize what a doubled loaf looks like. Remember that a 10" diameter ball has double the volume of an 8" diameter ball. Don't let your bread overrise.