Dungeness & Mushroom Chowder
lazyme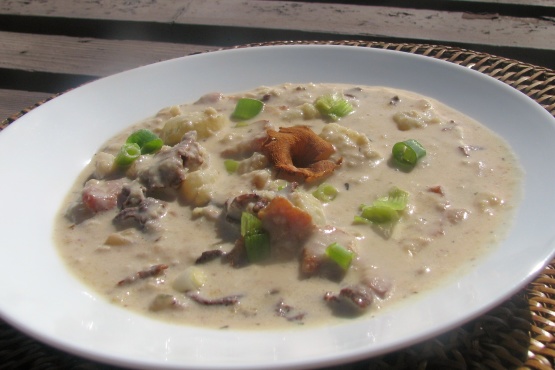 Who doesn't love a warm chowder on a cold day! Adapted from Alaskaseafood.org and Sunset magazine.

Made for your Football Pool win & I admit I made some changes due to ingredient issues. For the seafood - I used crab meat that was mixed w/small mussels, shrimp & scallops. That is strangely the only way to find crab meat here in Iceland. For the mushrooms - Every year in Aug, DH goes to the Icelandic countryside several times to pick wild mushrooms that we sauté w/chopped onion & then freeze for non-seasonal use. That said, this chowder was an easy-fix & made a tasty meal when served w/a green salad & garlic butter baguette rolls. Thx for posting this recipe & Congrats on your Football Pool win.
In a 3- to 4-quart pan, combine potatoes with cold water to cover. Bring to a boil over high heat, then cover pan, reduce heat, and simmer until potatoes are tender when pierced, 8 to 10 minutes. Drain.
Meanwhile, rinse mushrooms briefly and drain. Trim off and discard any tough stem ends; if using shiitakes, discard whole stems. Cut mushrooms into large bite-size pieces. In a heavy 5- to 6-quart pan over medium-high heat, melt butter. Add mushrooms and stir often until liquid is evaporated and mushrooms are just beginning to brown, about 10 minutes. Pour into a bowl.
Add bacon to same pan over medium-high heat and stir often until beginning to brown, 4 to 5 minutes. Add onion and garlic and stir often until onion is limp, 4 to 5 minutes. Sprinkle flour over onion mixture and stir often until just beginning to brown, 2 to 3 minutes.
Whisk chicken broth and cream into pan and continue whisking until mixture boils and thickens, about 6 to 8 minutes. Stir in sherry, Worcestershire, and thyme, and simmer, stirring occasionally, for about 5 minutes.
Gently stir in potatoes, mushrooms, and crabmeat. Add salt and pepper to taste and cook until heated through.
Cook's tip: You can substitute common button mushrooms for the wild ones. To add wild flavor, cover 2 packages mixed dried wild mushrooms (about 3/4 oz. total) with 1 cup boiling water and let soak until soft, about 20 minutes. Lift mushrooms out gently, squeeze dry, and cut into bite-size pieces; add with button mushrooms. Substitute the mushroom-soaking liquid for one cup of the chicken broth, pouring it in carefully, leaving the sediment behind.