Duncan Hines Strawberry Shortcake from a Mix
mynjean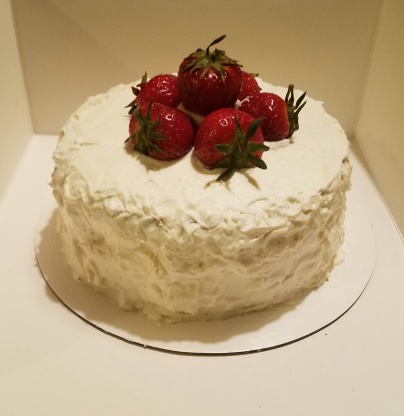 The easiest way to serve a crowd..really terrific recipe...to save calories..I use dream whip or cool whip, thawed...
Preheat oven to 350*.
Grease two round 9" round cake pans -- with butter or margarine.Sprinkle bottom and sides with granulated sugar.
FOR CAKE:.
Combine cake mix, eggs, water and butter in large bowl --
Beat at medium speed with electric mixer at medium speed for 2 minutes.
Pour into prepared pans.
Bake at 350*.for 30-35 minutes or toothpick inserted near the center comes out clean --
Cool in pan 10 minutes.
Invert on cooling rack.Cool completely.
FOR FILLING & TOPPING:.
beat whipping cream, sugar and vanilla extract until stiff in large bowl -- Reserve 1/3 cup for garnish --
Place one cake layer on serving plate.
Spread with half the remaining whipped cream and sliced strawberries -- Repeat with remaining layer,
Garnish with remaining whipped cream and strawberries --
Garnish with mint leaves, if desired.
Refrigerate until ready to serve.