Hanka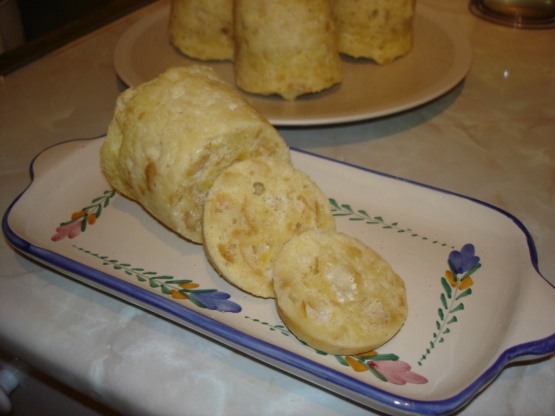 Dumplings in my country are like apple pie in America. Everybody likes them and there are hundreds recipes for them. My mom makes one huge and steams it in a napkin for an hour. I tried to speed up cooking process in microwave. It takes only 10 minutes and it's hard to tell a difference. We enjoy them with grilled chicken breast and mushroom sauce.

You really need to eat it with some sort of sauce because by itself it is bland. Next time I'll add sauteed onions and parsley to it. My daughter LOVED them, though. But she's 4 and a picky eater who doesn't like any spices... so she would like this bland food.
Cut bread rolls into small cubes. You should have about 3 cups. Put in a large bowl and set a side.
Prepare your four 8oz. cups - butter them and sprinkle with breadcrumbs.
Whisk the egg whites until stiff peak form. Set a side.
In large bowl combine bread cubes, egg yolks, milk and salt.
Add sifted flour and baking powder and stir well.
Fold in egg whites.
Fill your prepared cups with mixture leaving 1 inch for mixture - it will rise in microwave.
Put in microwave and cook about 10 minutes on 700W (high).
Check with wooden toothpick if they are done inside.
Take it out of cups. Cut into 1/2 inch slices.
They freeze well.