Mary K.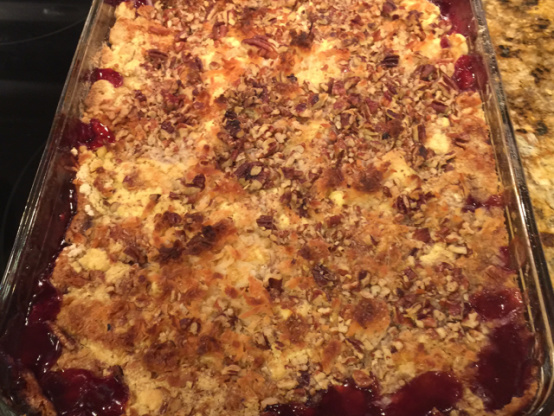 This was demonstrated at my monthly mom's group. It is quick to put together because you just "dump" everything in the pan and bake it, no mixing required.

This recipe will definitely be made again & again in my kitchen! So easy to put together, & very, very easy on the taste buds! AND for me, none of the 3 optional ingredients were . . . optional ~ They all went into the pan! Made this first one to share with a neighbor couple, & today I'll be making it again just for us here at home! Thanks, much, for sharing this great recipe! [Made & reviewed in Sweet Traditions tag]
Preheat oven to 350 degrees (325 degrees for glass pan).
In a 9x13 pan, dump in cherry pie filling if using add almond extract and stir together.
Empty entire can of crushed pineapple on top of cherries (no need to stir).
Sprinkle cake mix evenly over top of fruit layers, do not stir.
Dot with ¼ cup cut up butter.
Pour ½ cup melted butter over top of cake mix.
If using, sprinkle coconut and pecans over top of cake.
Bake for one hour or until tester comes out clean.