Rita1652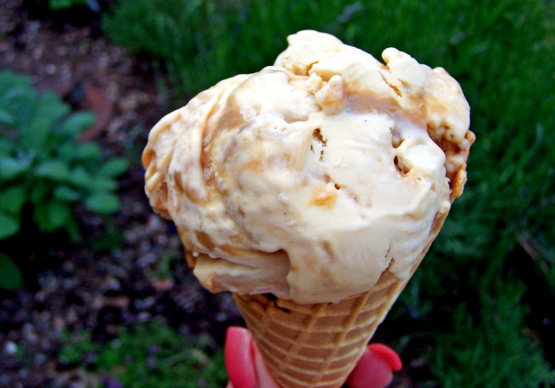 Get out your ice cream machines for this one!! 2 cans of sweetened, condensed milk (not evaporated milk) are caramelized, and half of the mixture is stirred into a custard base. When the custard is almost frozen, the rest of the caramel is dropped in ribbons into the ice cream as it continues to churn in the ice-cream maker.

This worked well halved with the size of my ice cream mixer. The flavor and texture were dead on! I too had a bit of trouble running the caramel stream into the mixer so i just folded dollops of caramel in after it finished. Easy! I then froze it for an hour or so before enjoying, topped with sea salt.
Place sweetened, condensed milk into the top of a double boiler. Cook over simmering water for 1½ to 2 hours, stirring every five minutes, until a golden caramel color. Chill half of mixture. Cool the other half to room temperature.
Heat 2 cups of milk almost to a simmer in a medium saucepan. Whisk eggs in a bowl. Slowly pour about one half cup hot milk into eggs, whisking rapidly to prevent eggs from cooking. Whisk eggs into remaining milk in saucepan. Stir constantly over medium-low heat until custard thickens. It should heavily coat a spoon. Do not allow custard to boil.
Remove from heat and stir in the room-temperature caramel, add the remaining 1 cup milk and the vanilla. Refrigerate overnight or until very cold.
Pour ice cream base into an ice-cream maker and process according to manufacturer's instructions. When ice cream is thick and almost done, dollop in chilled caramel into mixture, allowing it to drip in ribbons from a spoon. Continue processing until done. Freeze if you can wait! Enjoy!