Dulce De Leche (Caramel) Cookies
Robyn N.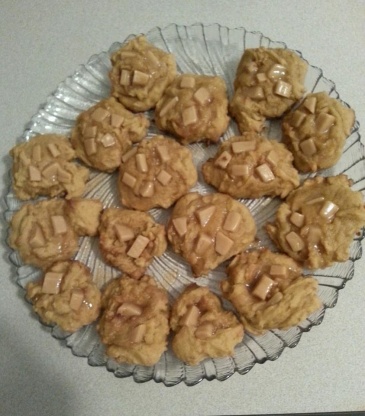 A rich, caramel flavored cookie that is topped with chopped up pieces of caramel. This is a very soft and chewy cookie. Prep time includes chilling time.

I baked these for a housewarming party I went to last night. They were a big hit and everybody enjoyed them; however, they weren't as flavorful as I was hoping they would be. I'm not sure what I'd do differently next time - maybe add more caramel sauce to the mix or melt some caramel squares and mix those in? When I added the chopped up caramel squares to the cookies (I only chopped about 5 or 6 oz since it was really hard to do), they didn't really melt or anything. The caramel sauce that was drizzled on top made the cookies really sticky (my sauce was went on kind of thick which was probably the problem). Even though they didn't turn out quite as planned, they were really soft, light, and fluffy! Yum!
Preheat oven to 375.
In small bowl, combine flour and baking soda.
In separate bowl, cream together butter, sugar, brown sugar, pudding mix and syrup until smooth.
Beat in eggs until smooth.
Gradually beat in flour mixture and mix just until fully incorporated.
Chill dough for 30 minutes.
Drop by rounded tablespoonfuls onto cookie sheet.
Bake 7-8 minutes (cookie will be soft and just barely done).
Cool on cookie sheet for 1 minute then remove to wire cooling rack.
Immediately top each cookie with chopped caramels by slightly pushing caramel pieces into the top of each cookie.