anme7039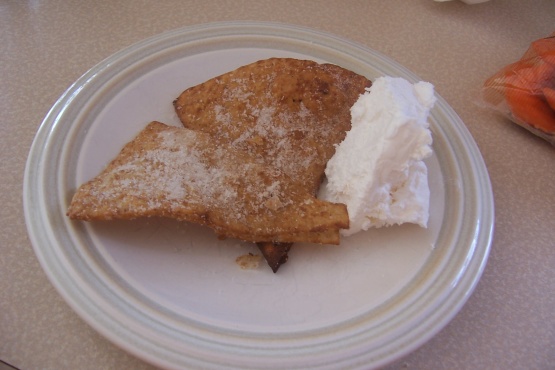 Sweet nachos with cinnamon, caramel, and mango. Or you can vary it by omitting the mangoes and caramel sauce and drizzling the tortillas with 1/2 cup chocolate syrup and 1 tablespoon coffee liqueur which have been heated in the microwave.
Cinnamon Cream

1

cup whipping cream

2 -3

tablespoons sugar
1⁄8 teaspoon cinnamon

Nachos

6

fajita-size flour tortillas
oil (for frying)
1⁄4 cup sugar

1

teaspoon cinnamon
1⁄2 cup caramel sauce
1 1⁄2 cups diced mangoes
To prepare cinnamon cream, beat ingredients in a medium bowl with a mixer until stiff peaks form; transfer to a decorative bowl and refrigerate.
To prepare nachos, cut each tortilla into 6 wedges. Working in batches, fry in hot oil until crisp and lightly browned; remove with a slotted spoon and drain on paper towels. Stir together sugar and cinnamon in a medium bowl; add tortillas and toss well to coat. Pile onto a decorative platter.
Heat caramel sauce for 20 to 30 seconds in the microwave until thin enough to pour. Drizzle over tortillas and sprinkle with mangoes. Serve with cinnamon cream.