Dukkah/Duqqa (Pronounced Doo-Kah)
awalde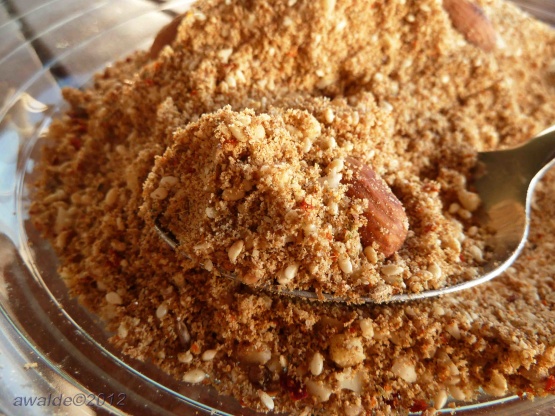 Dukkah is an Egyptian specialty that is not strictly speaking a spice blend, but rather a blend of roasted nuts seasoned with spices. It is typically used as a dip with bread or fresh vegetables, and eaten as an Hors D'Oeuvre. It can also be used as a side dish to the main course of a meal. Dukkah makes a crunchy coating for chicken or fish when put on before pan-frying. You can use macadamia & almonds or hazelnuts & or almonds.

Top Review by awalde
Really amazing and delicious!
I'm very glad I tried this recipe as this nuts and spice blend were enjoyed very much. I prepared it using some dried thyme and red pepper flakes. I prepared only one cup of it and after the dinner only one tablespoon was left.
We combined this with roasted cauliflower and fresh Recipe #209486 with some olive oil.
This was a perfect dinner!
A big thanks from all of us!
Preheat the oven to 350 degrees. Place the almonds on a baking sheet, and bake for about 5 minutes, or until fragrant. Set aside to cool.
In a dry skillet over medium heat, toast the sesame seeds until light golden brown. Pour into a medium bowl as soon as they are done so they will not continue toasting. In the same skillet, toast the coriander and cumin seeds while shaking the pan or stirring occasionally until they begin to pop. Transfer to a food processor. Process until finely ground, then pour into the bowl with the sesame seeds. Place the cooled almonds into the food processor, and process until finely ground. Stir into the bowl with the spices. Season with salt and pepper, and mix well.
To serve:.
Place Dukkah in bowl and dip bread first in olive oil or avocado oil and then Dukkah.