teresas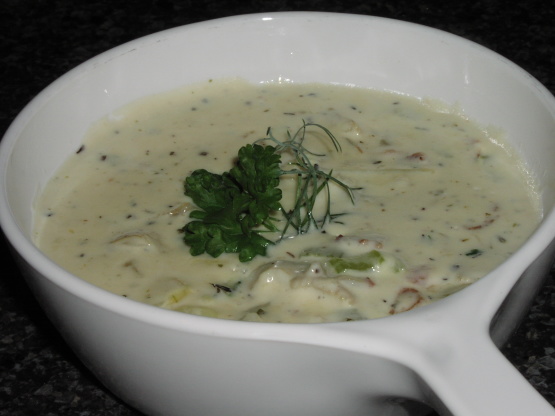 This is a good clam chowder, from Duke's Restaurants in Seattle, Wa. They are famous for their clam chowder.

Having lived in the Seattle area for years I am fortunate enough to have eaten at Duke's many times. I have made this recipe many times also, the first time following it exactly and after that making certain modifications. Instead of 4 c heavy cream I use 1 c heavy cream, 1 c half & half, and 2 cups of either whole milk (special occasions) or 2% milk. It is still plenty rich and thick. I also drain the liquid from 4 cans of clams, reserve it to let the sand settle, then use that for the 1.25 c clam juice, adding more if the mixture is too thick. If you can find applewood smoked uncured bacon that is fantastic. Clam base can be hard to find but if you are in Seattle try QFC or whatever replaced Larry's Market :( If you're in the DC area, try Wegmans, Balducci's or Whole Foods. Or ask a reputable seafood market. (Clam base is a thick, moist, paste-like substance that is essentially concentrated clammy deliciousness. If you can't find it it is not the end of the world but it does help.) Now, if someone could just post the recipe for Duke's Pier Pie, which has mysteriously disappeared from their menu, life would be complete....
Cook bacon until transparent.
Add butter, onions, celery and all the seasoning except dill and parsley.
Cook until tender. Add flour and cook 3 to 4 minutes over low heat.
Add all dairy products, clam nectar and base. Heat just under boiling point.
Steam potatoes and cool.
Add chopped clams and potatoes. Bring to a boil slowly and cook 2 to 3 minutes. Add dill and parsley and serve.