Dugan! Get Your Grimy Hands off Those Pickled Sausages!
Thorsten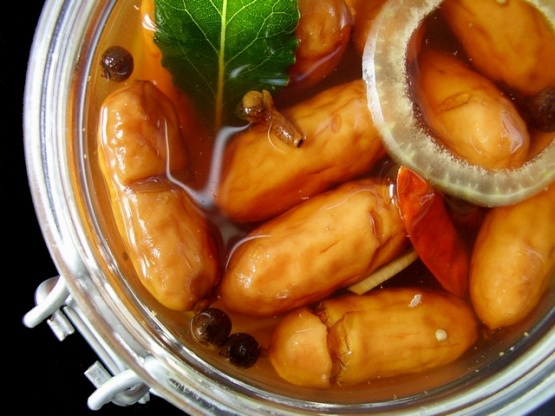 I have to hide these sausages behind something healthy in the refrigerator or my boyfriend Dugan eats them before they are ready. He is such a beast. Warning: Do not store within a monkey wrench throw of car mechanics and all men who drink beer.

An absolutely fantastic recipe to start with -- modify to your own taste. I live in the Middle East and cannot get pork sausage -- Penrose stopped making their great sausages. This recipe was a great find. However, I can only get turkey kielbasa here -- no prob -- and it can be spiced up to your liking and favorite bar snack flavor. My friends love them and they go great with cold beer.

Modification for beer drinker's palette was such -- I have a two liter, old fashion mason jar with the rubber ring and metal lock:

3 lbs of Hilshire Farms Turkey Polska Kielbasa
1 small onion
eliminated the water
1 Tablespoon brown sugar
4 cups white vinegar
2 teaspoons red pepper flakes
1 T pickling spice
4 cloves garlic
6 thai chilies - cut into 1/2 inch pieces
few dashes of your favorite hot sauce
2 Tablespoons salt

Thank you so much for posting your original recipe. It was a great find!
Cut up precooked sausage (do not reheat them)into 3 inch links and put into jars with a few slices of onion.
Bring to a boil the rest of the ingredients and simmer five minutes.
Pour hot mixture into jars (prefer mason or canning jars other types may explode)over onions and sausages.
Put lid on jars and carefully hide in the refrigerator at least a day- two days is better- or until they are discovered by a man.
NOTE: These are a wonderful bribe to get Dugan to do something unpleasant around the house or to make up with him when I have been terribly naughty.