twissis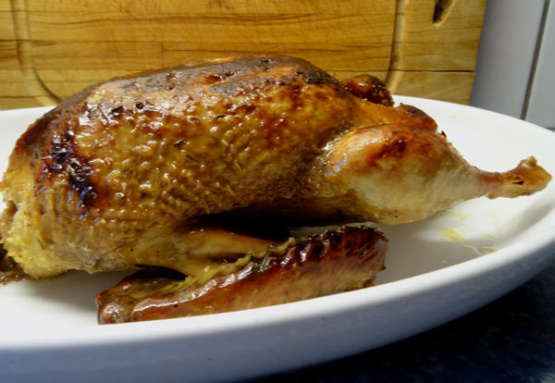 Here's another James Beard classic. This is our special anniversary dinner every year for the last 15 or more years since I found the recipe. The orange sauce is awesome! The Grand Marnier and the fresh orange zest really add that special touch. We usually double the sauce because we love it over rice on the side. It can also be made with roasted chicken, but duck makes it really special.

Awesome perfect sauce! Now my go to for orange sauce for ever more! Roasted my simply salted & peppered duck on a rack over a pan with the gizzards, heart, liver & neck to which I added 5 cups of boiling water after 20 minutes roasting at 450 degrees - then down to 400 until well done - crispy skin, lovely duck fat (to be saved & used in other dishes) & about 1 1/2 cups rich duck stock to be the base for a lovely duck & watercress soup. Thank you for posting this lovely rendition of the venerable classic, lazyme. Truly one for the all time greats recipe folder!
Melt butter in heavy saucepan. Add flour. Blend well over medium heat. Reduce heat and simmer for several minutes.
Heat bouillon, stir into roux, and continue stirring until sauce thickens. Add herbs, reduce heat and simmer for several minutes.
Combine orange juice, orange zest, and lemon juice, with brown sauce. Simmer 5 minutes and add liquor.
Clean duck. Heat oven to 325ºF.
Place breast side up in shallow roasting pan. Brush duck with 1/2 of glaze. Roast uncovered for 2 1/2 hours, pricking skin with fork and brushing with glaze occasionally.
Just before serving, add 1/2 cup orange sections to sauce. Heat through.