Jostlori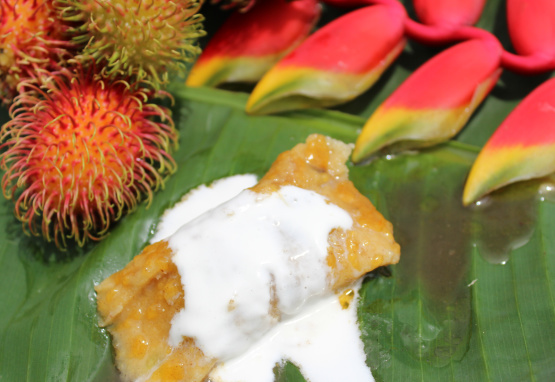 Funny name for a boiled pudding from the Caribbean that is reminiscent of tamales dulces. Posted for ZWT, untried by me. Adapted from "Around the World in 450 Recipes".

I must admit, I was intrigued... I grew up eating homemade sweet tamales and this did sound like something similar. But if you're used to tamales made from fresh corn masa, then anything made from cornmeal is going to be disappointing. Still - I WAS intrigued! I originally made the Duckanoo exactly as written, but tasting the dough was enough to know there was going to be something missing. When you make sweet tamales, the uncooked dough is always waaaaay sweeeeet! And it tempers during cooking. So these weren't sweet enough. I more than doubled the sugar and added honey. Also added a lot of cinnamon to taste (it would probably benefit from a ground cinnamon stick, as in tamales. I added some fresh pineapple, chopped, and more butter. When done, they were still a bit bland, so I topped with some leftover bananas foster syrup and a dollop of runny whipped cream. They were good, but next time will just go with what I know - sweet tamales! This was a fun experiment and glad I tried it. Thanks for posting, MG! Made for ZWT9 Tropical Dessert Challenge. Team Gourmet Goddesses.
Place the cornmeal in a large bowl. In a food processor or blender, process the coconut and milk until smooth. Stir the coconut mixture into the cornmeal, then add all the remaining ingredients and stir well.
Fold six pieces of foil into 5" x6" pockets, leaving one short side open. Fold all other edges tightly to ensure that they are well-sealed.
Put one or two large spoonfuls of the mixture in each pocket, and fold the edge over to seal tightly.
Bring a large pot of water to a boil. Place the sealed foil packets into the boiling water, cover and reduce to a simmer. Simmer for about 45 minutes to 1 hour.
Remove the packets from the water, remove the foil, and serve the duckanoo by themselves, or with sweetened whipped cream.