chia2160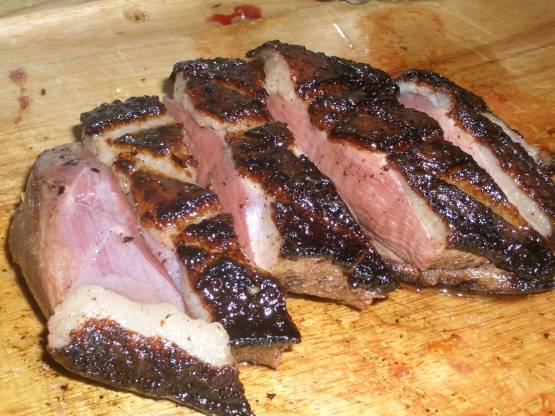 from nigella, courtesy of the NY Times.

Simply superb! I prepared these just as the recipe states (marinated 24 hrs). The marninade doesn't mask the duck flavor, but complements it. I sauteed some sliced chestnut mushrooms in the same frying pan before cooking the duck, then added them back after removing the breasts; served them on top and it was fabulous (they picked up the wonderful flavor of duck and marinade). Thanks for posting !
In a large freezer bag, combine wine, chili oil, Worcestershire sauce, soy sauce, orange juice and orange rind.
Mix well and add duck breasts.
Seal bag and mix again.
Refrigerate for at least 1 hour or up to 24 hours.
Remove duck from marinade and shake off excess liquid.
Heat and lightly oil a grill, ridged skillet or heavy flat skillet.
Cook duck breasts to taste, turning frequently, 10 to 15 minutes.
If desired, cooked breasts may be wrapped in foil and held for 10 minutes until serving.
To serve, thinly slice breasts diagonally and arrange on a serving plate.
Pour any juices in pan or foil on top.
Garnish with chives, and serve.