Duck Breasts With Raspberry Sauce
KateL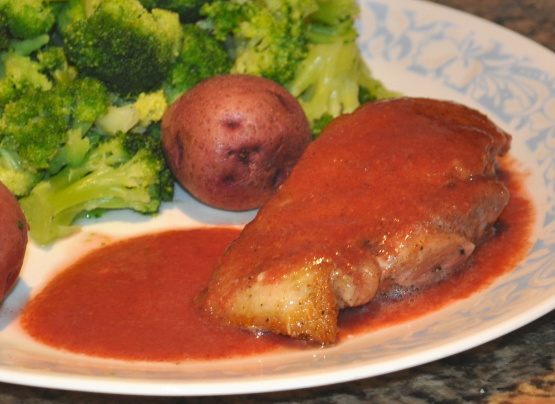 This is from a local cooking class that I took. The fruity, slightly tart sauce really complements the rich flavor of the duck breast. Use the rendered duck fat to fry some tiny new potatoes for a decadent dish worthy of a dinner party.

Top Review by KateL
Delightful, so quick and easy. This was the first time I had ever cooked duck and I was amazed by this recipe's simplicity. The breast meat reminded me of dark meat from a chicken leg, only it was infinitely better. In our local area, it appears that duck breasts must be special-ordered, if that is all you want. In our biggest Asian market, there were trays of 12 (or more) duck legs and frozen (dressed) whole ducks. We bought a whole duck, and will use the legs for a Mark Bittman recipe and use the carcass for a Simon Hopkinson duck soup. Thank you for sharing Ingrid! Made for Please Review My Recipe tag game.
Score the skin of the duck breasts, being careful not to cut into the meat. Season with salt and pepper on both sides, then place into a cold skillet, skin side down.
Turn on the flame to medium-low, and slowly cook the duck until much of the fat has rendered out, and the skin begins to get crispy. (It will not be fully cooked at this point).
Remove most of the rendered fat from the pan, and reserve for another use. Set the duck aside while the sauce cooks.
In another small pan, combine the raspberries, cinnamon, sugar, vinegar, and water. Cook over medium low heat until the berries are soft and the sugar has dissolved. Place in a blender and puree until smooth.Return the duck to medium low heat, this time skin side up. Continue to cook until the meat reaches your desired degree of doneness (I cook it to medium rare).
Let the duck rest for 5 minutes, then place on serving dishes and drizzle with the raspberry sauce.