Duck Breasts With Cranberries & Honey Sauce
Chouny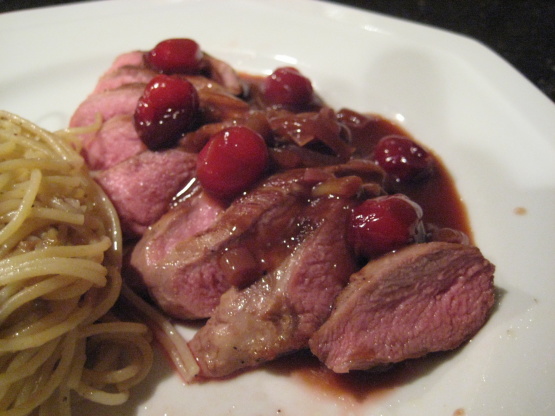 This meal is a real treat! The sweetness of the honey combined with the tartness of the cranberries compliments very well these duck breasts. Hope you enjoy as much as we did.
Prepare gravy as per directions on envelope, reserve.
Salt and pepper each breast on both sides.
Melt butter and oil in a skillet, brown breasts on both sides until well browned (approximately 3 minutes each side).
Cook in oven (350°F) for approximately 10 minutes (for small breasts) and for medium-rare.
Meanwhile, in same skillet, add leeks, sauté until tender.
Add vinegar, orange juice, orange zests, wine, cranberries and honey. Bring to a good simmer and reduce for a few minutes.
Incorporate gravy, mix well and cook for one more minute.
Add salt and pepper to taste.
Cut each breast in thin slices crosswise.
Fan slices on each plate.
Spoon sauce over duck.