Dublin Vegetables (Mashed Carrot and Parsnip)
Syrinx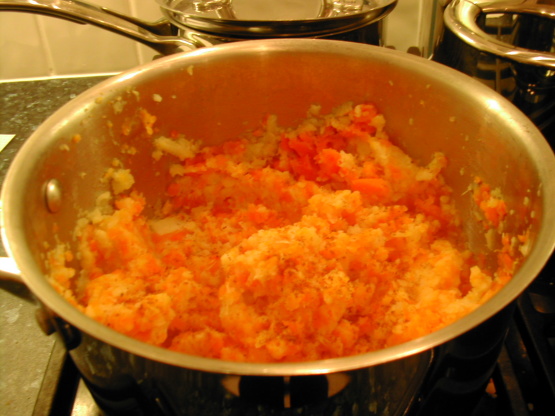 We first had this purée of carrots and parsnips in a hotel in Dublin when I was a child, and it has been called "Dublin vegetables" in our family ever since! If you prefer, you can mash the vegetables instead of blitzing them to a purée - it still tastes fabulous.

Only the second time I've ever had parsnips, and I think their lemony zing goes really well with the carrots in this dish. I used seasoning salt rather than regular, and forgot to add nutmeg, will have to dust the leftovers and try it that way later... I was in the minority with this one tho, and will probably only make it when there are others around to help me eat it. My 8 year old tried this one (took 3 bites to make sure) and didn't care for it. The 5 year old wouldn't try it, and my oldest (also known as my husband) took one look at it and refused to put any on his plate. Their loss. ;-) Next time I would make this more like mashed potatoes with a splash of cream to smooth it out a bit more, but good as is. Thanks for sharing.
Put the carrots and parsnips into a large saucepan, cover with water, put on the lid, bring to a boil, then simmer until all the vegetables are soft (20-30 minutes, depending on your vegetables and the size you have cut).
Drain off all the water, and return the vegetables to the hot pan to evaporate off any excess moisture - you don't want the purée to be too wet.
Add the butter, salt and pepper (to taste), then blitz with a hand blender until you have a purée (it's nice left lumpy, too).
Serve hot, with extra butter, freshly ground black pepper and a little nutmeg (if liked) ground over the top.