Boomette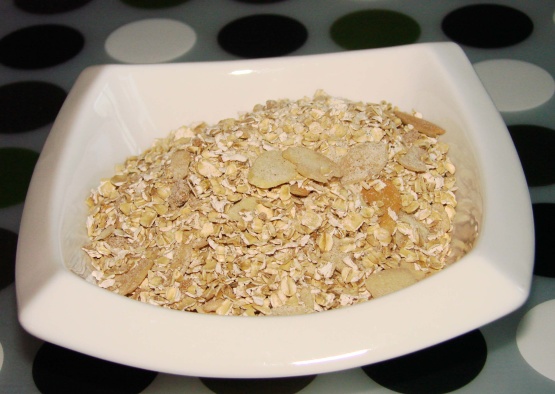 This recipe came from the February/March 2003 issue of Taste of Home's Light and Tasty. I really have enjoyed this recipe and the ease of preparation. Also, very economical to have on hand. Those small packets of pre-flavored oatmeal do get pricey. 3 points per serving.

This is such a great idea! Those packets of pre-sweetened oatmeal do get expensive and they are overly sweet. I tried the recipe this morning and I really liked it. I didn't add the dried fruit into the whole mix though. I decided I'd just add a tablespoon of dried fruit when I'm cooking it. That way I can vary the taste from day to day by using different dried fruits! Thanks
In a large bowl, combine the first eight ingredients.
Store in an airtight container in a cool dry place for up to 6 months.
Yield 8 cups total.
To prepare oatmeal: Shake mix well and measure out oatmeal into bowl, add water, and microwave for 3 minutes.
Or on a stove top, in a saucepan, bring water to a boil; slowly stir in 1/2 cup mix.
Cook and stir over medium heat for 1 minute.
Remove from the heat.
Cover and let stand for 1 minute or until oatmeal reaches desired consistency.