Dry Grape Grigio (Non-Alcoholic)
This recipe is from the 2009 cookbook, Zero-Proof Cocktails.
709.77 ml white grape juice, no-sugar-added
236.59 ml grapefruit juice, freshly squeezed from white grapefruits, strained
14.79 ml grenadine
Directions
In a pitcher or decanter, stir together all the ingredients.
Chill before serving in wine glasses.
Reviews
Most Helpful
So refreshing! This would really hit the spot in the summertime. I can't wait to try it then!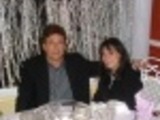 Lovely drink. Syd. I love grapefruit juice, and the addition of the grape juice was great. I used homemade grenadine. This is going to be fixed frequently, this summer. Thnx for posting, Syd. Made for PRMR cooking tag event.

I was really surprised by this drink Syd. I truly thought it was going to be too tart but overall it wasn't. It has a tartness to it of course but it is not overwhelming. Quite refreshing served over ice. Easily halved the recipe to serve two. Thanks for sharing this in the 123 Hits tag game.