Kim127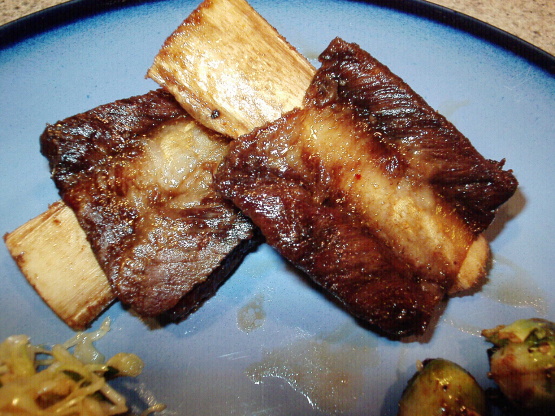 Posting this for ZWT 2006 Asian region. This is a classic Chinese treatment for Spareribs which can be doubled easily and is so delicious. To purists, this is NOT American style BBQ ribs so don't gasp at the boiling ok? Hehehe. I like to add some red pepper flakes and a little Ginger to the sauce to add a bit of heat.
I tried this recipe and the ribs are to die for! They are moist and tasty. I cut out some calories by using Splenda Brown Sugar Blend instead of the full brown sugar and it still tastes awesome. Everyone that I've ever made these for loooves them. Its so simple and there are only a few ingredients. Try this tonight! You will NOT be disappointed!!
Bring a large pot of water to boil.
Cut the ribs apart in large or small pieces as you wish; add the spareribs to the boiling water, cover, and allow to simmer for 30 minutes until tender.
While the spareribs are simmering, mix together the sauce ingredients.
Remove the spareribs from the pot.
If you like, set aside the pork broth to use in another recipe; clean out the pot.
Add the sauce ingredients to the pot and bring to a gentle boil; add the spareribs, bring back to a boil, and simmer for 10 - 15 minutes.