Drunken Tuna Dip or Sandwich Spread
flower7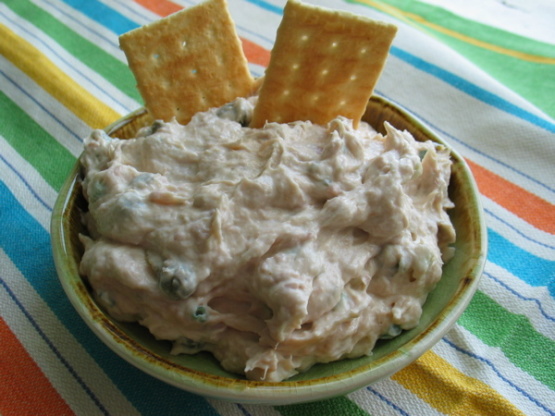 I adopted this from the Recipezaar account and updated the ingredients/instructions after making it. Updated again to add capers to ingredients. Serve as a spread for sandwiches or with crackers, veggies, bread cubes, and/or cheese sticks as a dip.

Made this for Chives Herb of the Month. As with both reviewers, it needed something, but I wanted the tuna to stand out too. I added some kalamata olives, lemon zest, and some fresh parsley and that was it. Just a bit more salt and that fresh parsley for a little more flavor. I served it on baguettes lightly toasted. I think on a sandwich it would be very rich for me, but loved it on baguettes or on crackers for a dip. None left, isn't that the perfect sign! Thx
Beat (with a mixer or by hand) the cream cheese, brandy, lemon juice, hot sauce and salt to a smooth and creamy consistency.
Blend in the sour cream and mayonnaise.
Mix in the tuna, green onion, and capers and blend until almost smooth.
May be served at room temperature or chilled.