teresas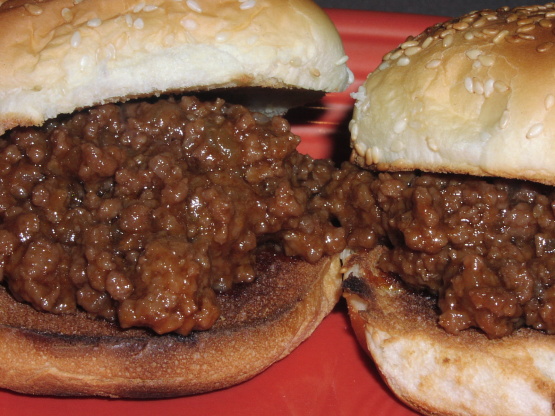 These drunken sloppy joes were inspired by by the drunken meatballs recipe that I make (Drunken Meatballs (With Crock Pot Instructions)). I had a gathering with a group of friends that usually request the drunken meatballs but I wanted to try to do something else. So, I looked at what I had in the house and came up with Drunken Sloppy Joes. I am sure any kind of bourbon would work but I drink so little (funny considering this recipe) that I have been working through the same bottle of Southern Comfort since Christmas.

DH and I were mixed on the review of this recipe. He thought it was way to sweet. I thought it tasted just right. I was a bit worried when adding the brown sugar, knowing that he might not care for the extra sweetness. But we both agreed that the "Bourbon Rocks". This added a nice change. Thanks for posting. I served them on toasted buns. Yum.
Heat the olive oil in a large and deep pan.
Add the onions and fry gently until they have started to go tender. This takes about 5 minutes, stirring often.
Crumble in the ground beef and cook, stirring when needed, until all of the meat is browned. This took me about 8 minutes.
Add the ketchup, Southern Comfort and brown sugar and stir until everything is combined with the meat.
Bring to a boil and then reduce to a simmer and continue to simmer for about 15 minutes, stirring now and then.
Stir in the dijon mustard and then let simmer for another 15 minutes or until the sauce is the thickness you like with a sloppy joe.
Serve on buns.