Drunken Pirate Shrimp With Tropical Salsa
Korkin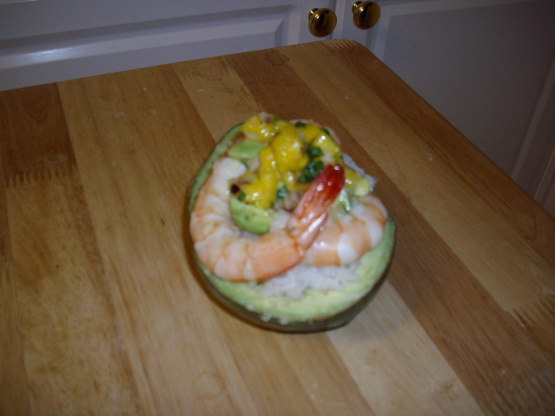 This recipe actually won Contessa's "Cook Like a Pirate" recipe contest, so I was pretty excited about it! It's a very nice light meal and the pirate theme is fun for the whole family.
1

cup coconut rum
1⁄2 cup pineapple juice
1⁄2 cup red onion, minced

1

tablespoon garlic, minced

1

tablespoon red pepper flakes

1

teaspoon kosher salt

1

piece fresh ginger, peeled

12

large shrimp, thawed and peeled

Tropical Treasure Salsa

1

mango, diced small

1

avocado, diced small, reserve peels
1⁄2 cup fresh pineapple, diced small

2

tablespoons cilantro, chopped

2

tablespoons red onions, minced

2

tablespoons lime juice
In a saute pan, add rum, pineapple juice, red onion, garlic, red pepper, salt, and ginger.
Bring to simmer on medium heat.
Let cook for 5-7 minutes, to allow the flavors of the vegetables to let out.
Gently drop shrimp into the pan and braise on medium low heat until pink, about 4 minutes.
Remove shrimp and arrange half in each avocado skin "chests".
Serve with rice for a fuller meal.
For salsa, after chopping all ingredients to appropriate size, mix together and season with salt and pepper.
Let sit for at least 30 minutes to marinate.
Serve over hot shrimp, to look like an opened chest of buried treasure.
Drizzle pan sauce over the whole dish for extra flavor.