This is so great! Adults only!
Directions
Preheat oven to 350 degrees.
In a medium bowl beat eggs slightly with a fork.
Add sugar, Karo syrup, margarine, and vanilla; stir until blended.
Stir in pecans and pour into pie crust.
Bake 50 to 55 minutes or until knife inserted halfway between center and edge comes out clean.
After pie is out of the oven, pour whiskey evenly over the hot pie and let it soak in for atleast 3 hours while cooling on a wire rack.
Serve and enjoy.
Don't give it to the kids!
Reviews
Most Helpful
OMG...was this ever GOOD!!! BEST Pecan Pie I've had, yet!!! I didn't have any KARO type syrup, so I used pure maple syrup instead...PERFECT!!! Will definately make this again!!! THANKS for sharing!!!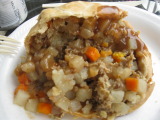 Made this for an office party at work! Everyone thought it was TO DIE FOR! A definite keeper!