sooters1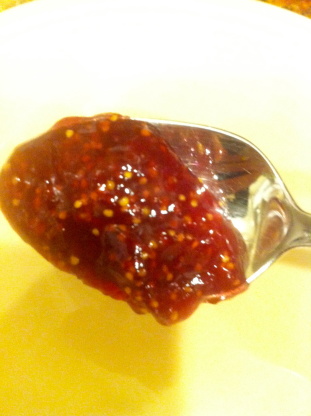 Source: Bon Appétit (October 2008) Yield: Makes about six 1/2-pint jars

DEVINE!!! I never thought I would find fresh figs in my area, (and I wasn't prepared to go to Vancouver just for figs!!) but didn't Costco just have them!! What a find!! I got a flat of 24 and it was just under 2 lb. So, I cut the recipe in half and used dried figs to make up the difference. This produced 8 - 125 mL jars. I used my stick blender to mash down the large chunks of figs. The only thing I would recommend is that when you get fresh figs, use them up fast. I got mine yesterday and they were already going soft (and they were refrigerated) I found that using my canner, especially for little jars, that they got "lost" on the canning rack, so I washed small white pebbles (the ones you get at a garden store), placed them in an old stock pot, filled the pot half way up the jars and processed for 10 minutes. The jars stayed in place and worked like a charm. My good friend from Montreal was visiting and had introduced me to this jam last month. He made a "stupid simple" appitizer of toasted baguette, some pate, goat cheese and the jam on top. It was so simple, but had an incredible taste!!! I have never heard so many collective groans together. This almost became our supper...it was that good! I an not normally a "toast and jam" person....but I would definately make this just to use as an appitizer! This recipe is so worth trying!!!
Using vegetable peeler, remove peel from lemons (yellow part only) in long strips.
Cut peel into matchstick-size strips (about 3 tablespoons).
Combine lemon peel, figs, sugar, brandy, and 1/2 teaspoon coarse salt in heavy large deep saucepan; let stand at room temperature 1 hour, stirring occasionally.
Bring fig mixture to boil over medium-high heat, stirring until sugar dissolves.
Reduce heat to medium; continue to boil until jam thickens and is reduced to 6 cups, stirring frequently and occasionally mashing mixture with potato masher to crush large fig pieces, 30 to 35 minutes.
Remove from heat.
Ladle mixture into 6 hot clean 1/2-pint glass canning jars, leaving 1/4-inch space at top of jars.
Remove any air bubbles.
Wipe jar threads and rims with clean damp cloth.
Cover with hot lids; apply screw bands.
Process jars in pot of boiling water 10 minutes.
Cool jars completely.
Store in cool dark place up to 1 year.