Prep 25 mins
Cook 1 hr 30 mins
Hi, it's been a very long time since the last time I posted to r.f.r, but I couldn't resist sending this when I saw the drunken chicken thread, This is a relatively new favorite of mine I created - I like it best for hickory or mesquite grilled chicken - but I think it works well for beef too...
Directions
Optional add-ins: garlic - I use powdered for the intensity- but crushed cloves of garlic will also be good...
splash of cayenne pepper sauce Rotel chiles and tomatoes A-1 sweet and tangy sauce Sriracha (or any flavor Vietnamese-style) chili sauce Substitution: Vodka or honey mead for Cider...
---- Combine all ingredients and pour over meat to be marinated.
The estimated amount above marinates about 2 1/2 to 3 lbs of chicken.
Marinate in tightly sealed dish at minimum for about 1 1/2 hours (for mild intoxication;) I marinated overnight and had wonderful results.
I hope you enjoy it
Most Helpful
Well, I have to confess that I know a great marinade when I see one.... and I also have to confess that I messed with it more than a bit -- I have some basics that I like to incorporate into chicken/shrimp marinades. The resulting hybrid recipe (for split chicken breasts cooked over an open apple-wood fire) was the absolute best grilled chicken, ever... anywhere. My guests were awestruck. Here's my modified ingredients: 2 dried red smoked chilies; 3 cloves fresh garlic; 3 oz. A-1 Sauce; 2 Tbsp. Fresh Rosemary (instead of sage); 2 Tbsp. cracked black pepper; 1 cup vodka; 1 1/2 c. apple juice; 1/2 c. lemon juice (bottled); 3 Tbsp. regular Olive oil; 3 oz. Maggi Seasoning sauce. I liquefied all the ingredients in my food processor and marinated for 4 hours, grilled the stuff over the open fire/coals and, WOW! I entered this one into my "Secret Recipe Book" last night at about midnite or so. And all I can say is, "THANK YOU, TRACEY!" (My guests offer their highest regards too!)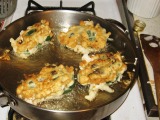 Super base marinade! I used vodka instead of apple cider, oregano instead of sage, plus some garlic and sweet chili sauce. This rocks!! Thanks for sharing.
Delicious!!! We used it for kabobs and the chicken was tender, moist, and tasty!!!