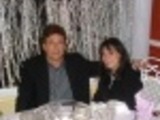 This makes a wonderful gift, especially around the holidays with its vibrant color. This should be stored for 8 hours before eating (in order for the flavors to develop) and last up to 1 week. It is lovely served over vanilla ice cream or used as a topping for cheesecake (or any other dessert).
Directions
In large bowl, combine all ingredients; stir until well mixed and sugar is dissolved.
Ladle mixture into one 24 oz. (1-1/2 pints) glass jar; store, tightly covered, at least 8 hours and up to 1 week.
Most Helpful
I made these as Christmas gifts and everyone seemed to like it. I know I sure enjoyed the jar I saved for myself. I used cherry vodka and raspberry liqueur.
Yum! I was a little frantic when I realized a day before Christmas that I had purchased tart cherries (not sweetened cherries), and didn't want to return to the store and fight the holiday mob for just one item. Instead, I added an extra tablespoon of granulated sugar to the tart cherries, and the end result was perfect. For the liqueur choice, I went with creme de cassis, but I can imagine the other liqueurs would be just as fitting for this recipe. We served the Drunken Cherries over Vanilla Bean ice cream, and we thoroughly enjoyed it. Made for "Please Review My Recipe" tag game. Thanks for sharing your recipe, JackieOhNo!. It's a "keeper", for sure!

Super recipe that brings joy to giftees and gifters alike! I made a batch using 1/2 frozen cherries from Whole Foods Market and tasted it; fantastic atop ice cream! I realized that one frozen bag of cherries is not the equivalent of two cans of cherries so I supplmented the remainder with a can a cherries as called for; superb! Either works quite well. Now I just need a festive crock or such to make another batch to give for Christmas. Thanks, JackieOhNo! I highly recommend this recipe. Made for PRMR.