Drunken Bread Pudding With Amaretto Sauce
Ambervim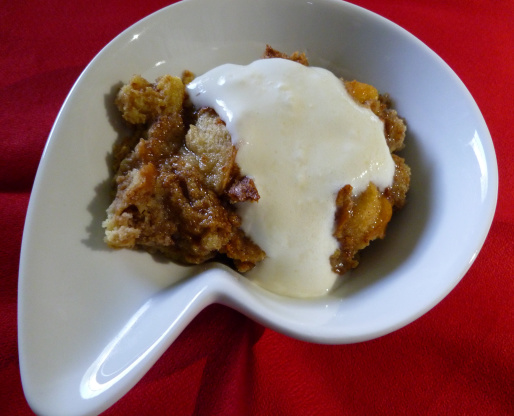 A good way to use up day old croissants or other bread. This makes a scrumptious almond-flavored dessert.

Another tasty version of bread pudding. Since I'm cooking for 2 people, I cut the recipe in half; if you do so,be careful of the amounts specified in the directions - the computer doesn't adjust them.
Preheat oven to 350°F.
Butter 11x7-inch baking dish.
In bowl whisk eggs and yolks, Whisk in granulated sugar and cinnamon until blended.
Whisk in half and half, raisins and 2 tablespoons Amaretto until combined and sugar has dissolved.
Add bread; stir to coat in egg mixture.
Cover; refrigerate for 15 minutes. Stir and refrigerate 15 minutes more.
Pour bread and egg mixture into baking dish; Pour any remaining egg mixture over bread.
Bake 30 minutes; sprinkle with almonds.
Bake 10 to 15 minutes more or until set. (If top is browning too quickly, tent with foil).
Cool.
Sauce: In pot melt butter over medium heat.
Add remaining Amaretto; bring to a boil, stirring constantly.
Cook 30 seconds, reduce heat to medium.
Gradually whisk in powdered sugar until dissolved; remove from heat.
Transfer to bowl; cover and cool.
Serve bread pudding with sauce and if desired, whipped cream.